MASS START AND FINAL CLIMB IN VAL DI FIEMME (ITA)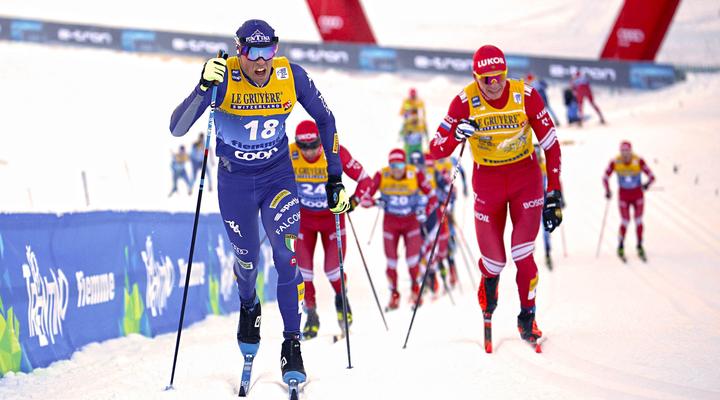 Registrations confirmed for Italy, Norway, Sweden and Finland
Tracks ready, CT Mass Start on Monday 3rd January, Final Climb on Tuesday on Cermis
Rich program, waiting for Russians and Americans
The track is ready and Val di Fiemme is calling. The sixteenth edition of Tour de Ski is coming soon, starting on 28th December in Switzerland, moving to Germany and then ending in Val di Fiemme, as usual, with two unforgettable days.
Complete registrations will be available in a matter of days; some countries have already confirmed their teams, as Italy, with Alfred "Freddy" Stauder announcing 15 athletes. They are: Federico Pellegrino, Francesco De Fabiani, Giandomenico Salvadori, Maicol Rastelli, Paolo Ventura, Davide Graz, Michael Hellweger, Alessandro Chiocchetti and Martin Coradazzi among men, then Greta Laurent, Caterina Ganz, Lucia Scardoni, Anna Comarella, Cristina Pittin and Martina Di Centa among women.
Eyes on the great Norwegian team, with his top athlete Johannes Høsflot Klæbo, also lining up Emil Iversen, Sjur Røthe, Simen Krüger and Erik Valnes and among women Ingvild Flugstad Østberg, Heidi and Tiril Weng and Maiken Caspersen Falla.
For Sweden, there are confirmations for Frida Karlsson, currently second in the World Cup overall standings, Ebba Andersson and the everlasting Charlotte Kalla, winner of the Tour de Ski in 2008. Swedish men are behind in the overall standings, yet on the starting line are Calle Halfvarsson, Gustaf Berglund and Oskar Svensson, and Tour de Ski with its six consecutive stages represents a very special event.
Waiting for American women, particularly Jessica Diggins, who mastered the past editions, and for the Russian team: some athletes are in Val di Fiemme these days in order to train. The best should be all present, Bolshunov included, while Ustiugov will not be there aiming to his best shape for Beijing.
Program:
CROSS COUNTRY STADIUM | LAGO DI TESERO
Monday 3rd January
10:30 am Coop Mini World Cup
12:40 am MASS START Women 10 km CT, awarding ceremony to follow
02:50 pm MASS START Men 15 km CT, awarding ceremony to follow
FINAL CLIMB | ALPE CERMIS
Tuesday 4th January
09:30 am Rampa con i Campioni – Promotional race FISI
11:30 am FINAL CLIMB Women - Mass Start 10 km FT, awarding ceremony to follow
03:25 pm FINAL CLIMB Men - Mass Start 10 km FT, awarding ceremony to follow
© Newspower