HEROLA AND GEIGER COMPLETE THE PODIUM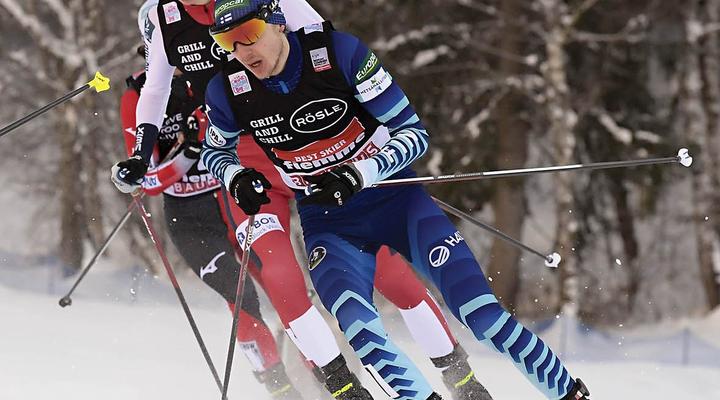 Jarl Magnus Riiber won Friday's Individual Gundersen HS104/10km in Val di Fiemme
Finland's Ilkka Herola finished second while Germany's Vinzenz Geiger was third
Alessandro Pittin finished 14th after an incredible performance in cross-country
Tomorrow the Team Sprint HS 104/2x7.5 km with ski jump at 10 a.m.

The FIS Nordic Combined World Cup weekend in Val di Fiemme (ITA) kicked off with an Individual Gundersen HS104/10 km. After a cloudy and snowy morning, the sun came out to shine on Predazzo and Lago di Tesero. Jarl Magnus Riiber set the tone already in the morning with a great jump that ensured him a 40-second advantage on his nearest challenger, Japan's Akito Watabe. Germany's Riessle was in third place after the jump, 50 seconds behind the leader. In the Nordic Combined events it's important to wait until the athletes cross the finish line in the cross-country race to crown the winner, because anything can happen on the cross-country tracks. Riiber, though, dominated even the 10km race in Lago di Tesero. In the first lap in Lago di Tesero, the Norwegian earned extra 20 seconds over his nearest pursuers and cleverly administrated his advantage to reach the finish first. Behind him, the fight for the other podium places was decided on the last uphill, where Finland's Ikka Herola broke away to finish second ahead of Vinzenz Geiger. Italy's Alessandro Pittin finished 14th, 1:23 off the pace of the leader. Raffaele Buzzi was 24th (+2:08) Samuel Costa 32nd (+2:33), Aaron Kostner 46th, Domenico Mariotti 48th at his World Cup debut and Giulio Bezzi 49th. Stefano Radovan, at his World Cup debut, was disqualified in the ski jumping session in the morning.
Tomorrow the competitors will take part in the Team Sprint HS 104/2x7.5 km with ski jump in Predazzo at 10 a.m. and the relay in Lago di Tesero at 1.30 p.m.
Download TV images:
www.broadcaster.it

Men's Individual Gundersen NH/10 km
1 RIIBER Jarl Magnus NOR 28:56.1; 2 HEROLA Ilkka FIN +8.4; 3 GEIGER Vinzenz GER +9.8; 4 RIESSLE Fabian GER +10.8; 5 FRENZEL Eric GER +11.2; 6 GRAABAK Joergen NOR +11.8; 7 LAMPARTER Johannes AUT +11.9; 8 WATABE Akito JPN +14.9; 9 GREIDERER Lukas AUT +17.5; 10 OFTEBRO Jens Luraas NOR +46.2
14 PITTIN Alessandro +1:23.1; 24 BUZZI Raffaele +2:08.8; 32 COSTA Samuel +2:33.7; 46 KOSTNER Aaron +4:27.7; 48 MARIOTTI Domenico +5:25.3; 49 BEZZI Giulio +7:16.5
©Newspower