ROETHE, "SIR" FINAL CLIMB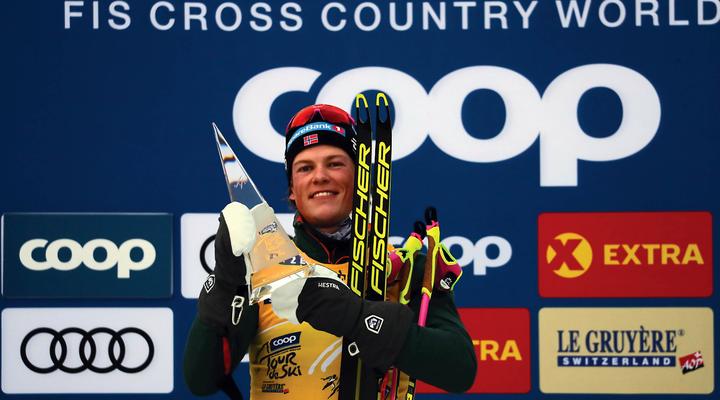 Unpredictable race today for the last stage of Tour de Ski in Val di Fiemme
Roethe runs fast with Spitsov and attacks the ascent with determination
Klæbo handles his advantage, 5th position and he wins his 2nd Tour
Good reports for Val di Fiemme, Thursday is time for Nordic Combined

Last stage for the Tour de Ski in Val di Fiemme today with Final Climb, or 'Monster Climb' as Norwegians like to call it, during a grey afternoon, not as Johannes Hoesflot Klæbo's mood, winner of the Tour de Ski for the second time, more likely as Alexander Bolshunov, 7th in the Final Climb and 2nd in the Tour.
Everything as predicted, outsiders attacking, the leader handles it all and the 'zar' cannot recover those two minutes essential for the crystal trophy. The Norwegian, new King Johannes II of Cermis has now 1183 points in the World Cup Overall rankings, 368 more than the Russian, is probably unreachable. He also earned 125.400 Swiss Francs; each one well deserved and with 46 victories (47 with the Tour today) is the most winning man in the world of cross country skiing.
The Russian Chervotkin immediately finds a good pace, De Fabiani falls again admitting his own fault. At the beginning of the ascent Niskanen, Chervotkin, Roethe, Bolshunov and Spitsov set the rhythm. At km 8 Roethe tries to 'escape', followed by Spitsov; they remain together until the last km when the Norwegian decide to fly to the finish line, followed by the surprising Germans Moch and Boegl.
Sjur Roethe is now "sir" Cermis, turning his face at the finish line he finds nobody, closing his race in 31'42"1 followed by the Russian Denis Spitsov (+2''4), quite bothered, he probably planned another version of this race. 3rd and 4th position for Germany, respectively Friedrich Moch and Lucas Boegl, 5th time for Johannes Hoesflot Klaebo, winner of Tour de Ski 2022.
One Norwegian smiling face versus the two sad faces of the Russian Alexander Bolshunov (2nd place) and the Finnish Iivo Niskanen, third. Finally, a special price to Dario Cologna's parents, a wooden statue for the faithful Swiss champions, taking part several times at the Tour de Ski and giving many emotions along the Cermis' ascent. Today he was not present, but he represents always a good "friend" of Val di Fiemme.
Download video TV: www.broadcaster.it
Final Climb Men
1 ROETHE Sjur NOR 31:42.1; 2 SPITSOV Denis RUS 31:44.5; 3 MOCH Friedrich GER 32:01.0; 4 BOEGL Lucas GER 32:12.1; 5 KLAEBO Johannes Hoesflot NOR 32:17.0; 6 ESTEVE ALTIMIRAS Ireneu AND 32:19.1; 7 BOLSHUNOV Alexander RUS 32:20.2; 8 BABA Naoto JPN 32:21.7; 9 TOENSETH Didrik NOR 32:23.2; 10 MALTSEV Artem RUS 32:33.2
Tour de Ski Men
1 KLAEBO Johannes Hoesflot NOR 2:24:56.0; 2 BOLSHUNOV Alexander RUS +2:03.2; 3 NISKANEN Iivo FIN +3:14.5; 4 SPITSOV Denis RUS +3:21.5; 5 GOLBERG Paal NOR +4:08.3
© Newspower