BIG ATHLETES FOR TOUR DE SKI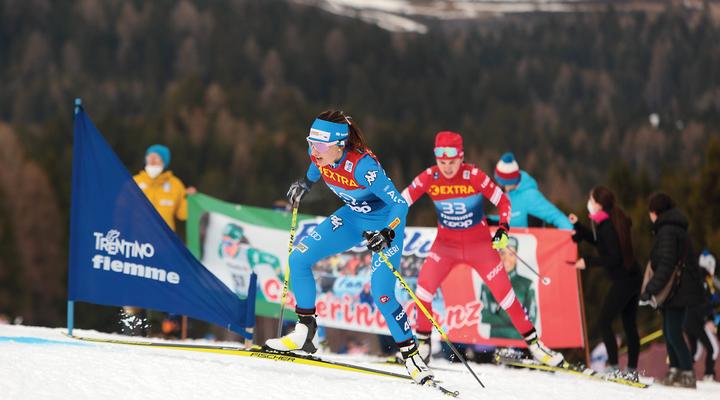 Norway, Italy and Sweden, top countries for Tour de Ski
Italy confirms its group for Val di Fiemme
From January 6th to 8th three days of great competitions in Trentino
Tour taking off from Switzerland with a change of plan

You hear Tour de Ski and Final Climb comes to mind. Val di Fiemme is where athletes are meant to be legends. 19 countries are coming from January 6th to 8th to the Cross Country Stadium in Lago di Tesero and on Alpe Cermis, for three extremely powerful days of competitions.
Italy confirms its group for the last stage, with the same names Alfred Stauder anticipated. First time for the home stars Giovanni Ticcò and Simone Mocellini, together with Giandomenico Salvadori and Paolo Ventura and among women Caterina Ganz. Federico Pellegrino, 'team captain' is confirmed, with Francesco De Fabiani, Mikael Abram, Davide Graz, Dietmar Nöckler, Anna Comarella, Martina Di Centa and Cristina Pittin. Nicole Monsorno, Federica Sanfilippo and Elia Barp – probably stopping before – are not coming to Val di Fiemme.
After Finland confirming the Nisnaken siblings Iivo and Kerttu, together with Krista Parmakoski, second place at Tour de Ski in 2017 and third in 2019, Sweden announced its team. The promising William Poromaa, Frida Karlsson, currently fourth place in the World Cup standings, Maja Dahlqvist and, among other, an unexpected Ida Dahl, leader of the Ski Classics ranking. Coming for USA, Rosie Brennan and Jessie Diggins, Tour de Ski winner in 2021 and currently second in World Cup standings, after the Norwegian Tiril Udnes Weng.
Norway is coming to Val Müstair (SUI), first Tour stage, with an important team of 19 athletes (9 women and 10 men), among them the World Cup leaders Pål Golberg and Tiril Udnes Weng, with Johannes Høsflot Klæbo, last Tour winner, Hans Christer Holund, Martin Løwstrøm Nyenget, Anne Kjersti Kalvå and, surprisingly, the long-distance skier Astrid Øyre Slind.
17th Tour de Ski is taking off from Switzerland with a slight change of plan: after FT Sprint on Saturday December 31st, the day-after 10 km Pursuit is replaced by a 10 km Mass Start. Oberstdorf (GER) is the middle stage proposing a CT 10 km Mass Start on Tuesday 3rd and a FT 20 km Pursuit the following day. Three final days in Val di Fiemme confirmed with Sprint, Mass Start and Final Climb, once again deciding Tour's winners. Audience has endless fun possibilities both in Lago di Tesero and above all with Tour del Gusto along Final Climb's track.
© Newspower