KLAEBO IS A RECORDMAN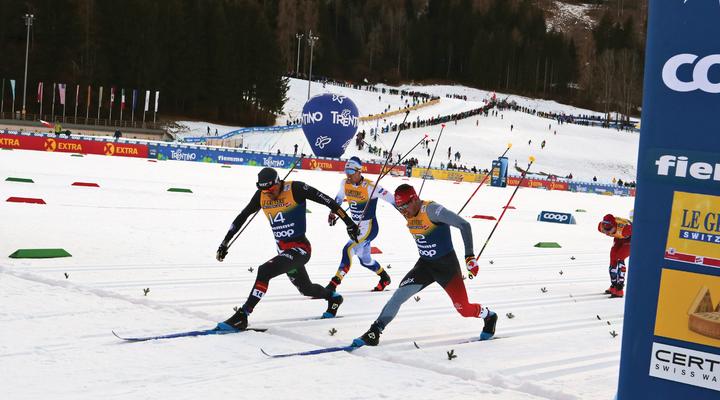 Another show by Johannes Klaebo in the 15 km Mass Start in Lago di Tesero
Thrilling final sprint with De Fabiani for a deserved bronze
Suprising German Hennig, Karlsson is second and Tour leader
The hard and mythical Final Climb and Rampa con i Campioni tomorrow on Cermis
Cross-country skiing enchants in Val di Fiemme, for the 6th competition of Tour de Ski. The one and only Johannes Klaebo dominated the hard and scary 15 km CT Mass Start, reaching his 6th victory out of six. Second place for his compatriot Paal Golberg, still World Cup leader. Francesco De Fabiani (ITA) ended third. Among women, the German Katharina Hennig won over Frida Karlsson (SWE) and Kerttu Niskanen (FIN) with a great final sprint.
Klaebo is hungry from the very beginning taking both points and seconds bonuses. Group moved together for most of the time; during the fifth lap, the French Lapalus takes the first place setting a higher pace, followed by Halfvarsson and De Fabiani. Klaebo controls from behind and knows he can decide the race at any moment. Italian flags start waving; audience is on fire for today home-star De Fabiani, getting a fantastic third place. "It was such a good and hard race. I've been getting better from the beginning and I am so happy I could reach this result".
Among women, the German Hennig tripped Norway, finding her first World Cup victory. Kerttu Niskanen (FIN) started to set a higher pace at km 8.9 and the Swedish Frida Karlsson reached 50 km/h descending. Head group with seven athletes: Niskanen, Karlsson, Weng (T.U.), Hennig, Brennan, Oeyre Slind and Stadlober. Hennig stops the timer at 44'26.7'', preceding Karlsson and Niskanen. They established a good working tactic, agreeing taming Norwegian athletes by setting immediately a high pace.
Last day tomorrow, first with Rampa con i Campioni, promising a great show on Alpe Cermis with the epic battle between Dario Cologna and Petter Jr. Northug. The first is a 4-times winner of Tour de Ski; the latter was Tour king in 2015. Also starting, Peter Schlickenrieder, German ex-cross-country skier, winner of a silver medal in Salt Lake City 2002. Among women, Antonella Confortola is coming back after her victories in 2016 and 2018. Rampa starts at 9 am; Final Climb for women is at 11 am and for men at 12.45 pm.
Download video: www.broadcaster.it
Women 15 km Mass Start CT
1 HENNIG Katharina GER 44:26.7; 2 KARLSSON Frida SWE 44:27.4; 3 NISKANEN Kerttu FIN 44:27.5; 4 BRENNAN Rosie USA 44:27.7; 5 STADLOBER Teresa AUT 44:37.6; 6 SLIND Astrid Oeyre NOR 44:44.0 7 WENG Tiril Udnes NOR 44:55.9; 8 KYLLONEN Anne FIN 45:01.1; 9 WENG Heidi NOR 45:01.4; 10 STEWART-JONES Katherine CAN 45:02.9
Men 15 km Mass Start CT
1 KLAEBO Johannes Hoesflot NOR 39:59.2; 2 GOLBERG Paal NOR 39:59.6; 3 De FABIANI Francesco ITA 40:00.4; 4 CYR Antoine CAN 40:00.5; 5 HALFVARSSON Calle SWE 40:00.8; 6 POROMAA William SWE 40:01.1; 7 KRUEGER Simen Hegstad NOR 40:01.3; 8 TOENSETH Didrik NOR 40:02.3; 9 HOLUND Hans Christer NOR 40:02.8; 10 PELLEGRINO Federico ITA 40:03.9
© Newspower