"FINAL" ACT IN VAL DI FIEMME (IT)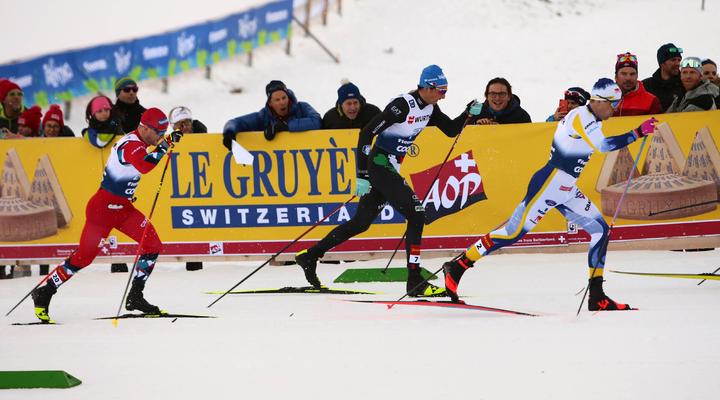 The spectacular Tour de Ski walks towards its 18th edition
Two days in Val di Fiemme (IT) on January 6th-7th
Pietro De Godenz: "We might host Tour de Ski final in 2026"
FIS Council approved the 2023-24 World Cup calendar last week
Tour de Ski is getting ready to celebrate an extremely important result. Since the very first edition in 2006/07, many winter venues interchanged in hosting the most exciting XCO-skiing event. Yet, only Val di Fiemme has been always playing a central role with its popular "Monster Climb" by awarding the best World Cup athletes.
Two days of competitions are taking place on January 6th and 7th: with a 15 km CT Mass Start on Saturday at Lago di Tesero Cross Country Stadium and the Final Climb on Sunday, with the traditional finish line on Alpe Cermis, after a 10 km FT.
Scandinavian teams have already decided their athletes for the upcoming season. Sweden confirms Frida Karlsson, winner of the 17th Tour de Ski, and Ebba Andersson, a great protagonist at Tour with a second place in 2022 and a third one the previous year. Moreover, Calle Halfvarsson, who was able to astonish everyone last year in Val di Fiemme, by getting a second place in the Sprint, following the unrivalled Johannes Høsflot Klaebo and preceding the home star of that day, Simone Mocellini. The most "hot" news are coming from the Norwegian Klaebo, five times Olympic gold, winner of nine World Championships, four World Cup and three Tour de Ski. He decided to quit the National team and to do it all by his own, without leaning on his ex-teammates as Simen Hegstad Krüger, who got the second place in Tour de Ski 2023.
The 32-years old Finnish Krista Pärmäkoski challenged her rivals by declaring her personal goal of the year: winning the Tour de Ski. Unfortunately, last year, she was forced to give up just before the 15 km in Val di Fiemme due to some stomach pain. Who knows, will she find her revenge in the 18th Tour de Ski?
Italy reconfirms its "playmaker" Federico Pellegrino, who will guide through the World Cup season the younger Elia Barp, Simone Mocellini and Davide Graz. Together with most experienced athletes, such as Francesco De Fabiani, Paolo Ventura and Simone Daprà. New entry in the female team with Francesca Franchi, who finds the expert Cristina Pittin, Anna Comarella and Caterina Ganz.
FIS Council approved the Cross Country Ski World Cup calendar for the 2023-2024 season last week. The 18th Tour de Ski takes place among three venues with the big opening in Toblach (IT) from December 30th to January 1st, followed by Davos (SUI) from January 3rd to 4th and finally, Val di Fiemme on January 6th-7th. "We are so happy to host once again the final act of the Tour de Ski on Cermis" - said Pietro De Godenz, president of the Val di Fiemme Ski Promotion Committee. "We also got to know, even though not in a definitive way, that we will be able to host Tour de Ski final even in 2026, thanks to Milan Cortina Foundation' and FIS' good will (normally, during the Olympic year, competitions' venues cannot host any other event)".
The first stage of World Cup takes place in Ruka (Finland) from November 24th to 26th, while the last is in Falun (Sweden) from March 15th to 17th.
© Newspower