TESERO AND CERMIS, THE SHOW CONTINUES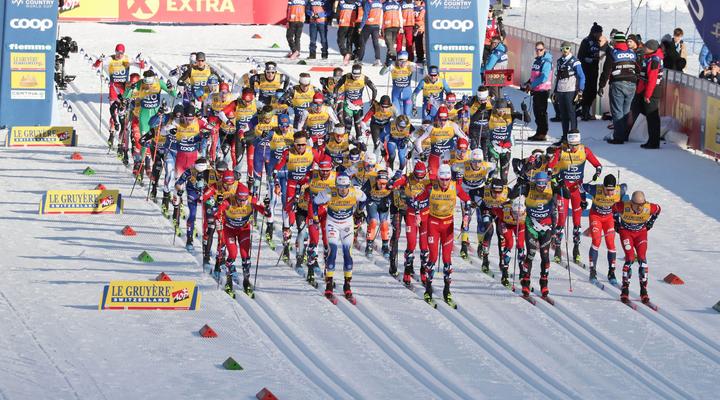 After the Rollerski World Cup, the OC Nordic Ski Val di Fiemme thinks about the Tour de Ski
Classic epilogue between Lago di Tesero and Alpe Cermis the 6-7th January
The Swede Ebba Andersson puts the "Tour" first this season
10 Italians gathered in Oberhof, Klaebo in the USA, while others choose Livigno
From the "summer cross-country skiing" to the winter one, the transition is short. In Val di Fiemme, concluded the Rollerski FIS World Cup final, people are already thinking about the highlight of the 6-7th January: the Tour de Ski. There are just over 100 days to go until the arrival of the stage at the Olympic and World headquarters in Lago di Tesero, the venue of Milano-Cortina 2026 Winter Olympic Games in cross-country skiing, Nordic combined and for the Paralympics in cross-country skiing and biathlon.
On Epiphany, the "Tour" circus will arrive in Val di Fiemme directly from Switzerland, an intermediate stage of the Tour de Ski, to complete then the work with the 15 km Mass Start in classic and the next day firing the last bullet on the bittersweet climb of the Cermis. The climb on the Cermis Alp is already though in itself, and the fatigue of the kilometres covered in the inaugural event in Toblach and Davos (SUI) will be felt in the legs of the "big" of the World Cup. The show is however guaranteed. In fact, without World Championships or Olympics on the calendar, many cross-country skiers put the Tour de Ski at the top of their agenda this season. One of these is Ebba Andersson, the 1997 Swedish winner of 2 Olympic and 8 World Championship medals. To take home the crystal ball of the "Tour" arriving first on the Cermis is not enough, as Ebba already did in 2021 when she "burnt" the American Jessie Diggins on the ascent; it is necessary to be at the front, especially in the sprint races and she knows it well. In fact, she has incorporated in her training sessions quick rushes to improve in this specialty.
The season is just around the corner and right now, the cross-country skiers are scattered around the world engaged in various gatherings. The head coach of the Italians Markus Cramer has brought 10 athletes in Oberhof, in Germany, followed by their technicians. On the other side of the globe, instead, the champion Johannes Høsflot Klæbo is training while waiting to find out his future in the World Cup. He arrived in the USA with the father Haakon and, between one session and the other, met cross-country skiers Kevin Bolger and Maja Dahlqvist. On the other hand, the Norwegian women's team after a meeting period in Lavazè joined the Swedish national team in Livigno to continue the preparation at high altitude. In short, all the top cross-country skiers are in full preparation and the big seasonal debut scheduled in Ruka (FIN) the 24-26th November is approaching.
The Nordic Ski Val di Fiemme committee is travelling fast to prepare an unforgettable final show and properly celebrate the 18th birthday of the Tour de Ski.
©Newspower.it