FRENZEL-RIESSLE AHEAD OF AUSTRIA AND FINLAND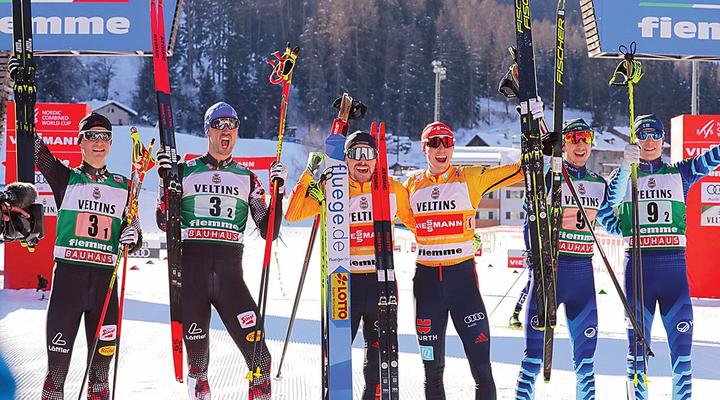 After the jumping session, Team Japan II were in the lead ahead of Team Germany I and Team Austria I
Germany's Fabian Riessle outsprinted Lukas Greiderer of Austria and took the victory in today's Team Sprint
Team Austria I (Lamparter-Greiderer) finished in second place, Team Finland I (Herola-Hirvonen) were third
Great comeback from the two Italian teams: Italy I from 11th to 9th place and Italy II from 15th to 11th place
It was a sunny day in Val di Fiemme (ITA) for the first men's team sprint of the Nordic Combined World Cup season.
Team Japan II (Yamamoto/Nagai) were in the lead after the jumping round held this morning at 10 a.m. in Predazzo, with Team Germany I (Frenzel - Riessle) 9 seconds behind, Team Austria I 11 seconds behind, Team Norway I with a delay of +16 seconds and Team Japan I with a 19-second gap from the leaders. The best Italian duo (Pittin-Buzzi) was in 11th place, 58 seconds behind Team Japan II, while Team Italy II (Kostner-Costa) were 15th.
In the Team Sprint race in Lago di Tesero, Germany and Austria battled it out for the victory after Norway rose white flag halfway through the race. Frenzel and Riessle of Germany snatched the victory as Riessle outsprinted Lukas Greiderer in the final few metres to beat Team Austria I by 1.5s. Team Finland I finished third with Eero Hirvonen displaying an impressive sprint against Julian Schmid of Team Germany II and Joergen Graabak of Team Norway I.
To recap, Team Germany I (Frenzel-Riessle) snatched the victory ahead of Team Austria I (Lamparter-Greiderer), while Team Finland I (Herola-Hirvonen) finished in third place. Team Italy I (Buzzi-Pittin) finished in ninth place, 1:57 off the leaders, while Kostner and Costa of Team Italy II were eleventh (+2:35).
Tomorrow the last day of racing in Val di Fiemme with a second Individual Gundersen NH 104/10 km starting from 10 a.m.
Download immagini TV:
www.broadcaster.it
Team Sprint NH/2x7.5km
1 Germany I 35.11.9 (Frenzel Eric - Riessle Fabian); 2 Austria I +1.5 (Lamparter Johannes - Greiderer Lukas); 3 Finland I +50.7 (Herola Ilkka - Hirvonen Eero); 4 Germany II +51.0 (Rydzek Johannes - Schmid Julian); 5 Norway I +51.2 (Bjoernstad Espen - Graabak Joergen); 6 Norway II +1.12.2 (Flatla Kasper Moen - Skoglund Andreas); 7 Japan I +1.12.7 (Watabe Yoshito - Watabe Akito); 8 Austria II +1.12.7 (Klapfer Lukas - Fritz Martin); 9 Italy I +1.57.9 (Buzzi Raffaele - Pittin Alessandro); 10 Japan II +2.01.3 (Yamamoto Ryota - Nagai Hideaki); 11 Italy II +2.35.9 (Kostner Aaron – Costa Samuel)
© Newspower