1000 DAYS TO MILANO-CORTINA 2026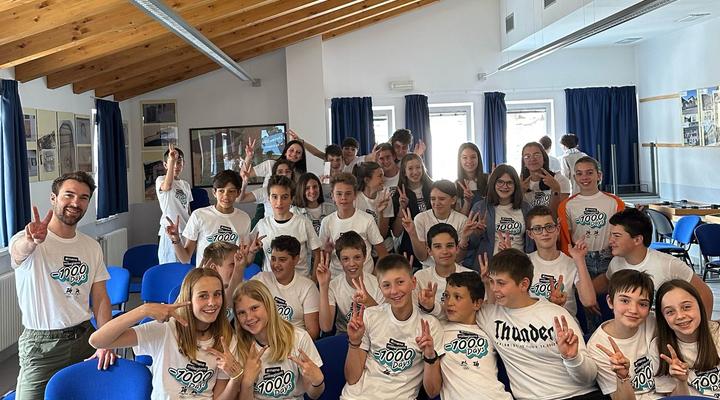 Milano-Cortina 2026 Olympic Games in Val di Fiemme
Pittin and Bertolas met the students from Predazzo's and Tesero's middle schools
Less than 1000 days before the lighting of the Olympic Flame
Many activities to engage young people
The journey towards the Olympic and Paralympic Games of Milano-Cortina 2026 has already begun. Every location hosting the international event organised interesting and engaging activities in order to promote the event and excite young people.
Last Saturday, Val di Fiemme celebrated the 1000 days countdown by bringing two home-star champions back to school to tell their feelings about the upcoming Olympic Games. The expert Nordic Combined World Cup athlete Alessandro Pittin, bronze medal at Vancouver 2010 visited Predazzo's middle school. Not far from him, the Nordic Combined Junior World Champion Iacopo Bortolas was visiting Tesero's middle school. Students dived into the magical world of Milano-Cortina 2026 through different videos picturing Val di Fiemme, Milan, Cortina d'Ampezzo, Verona, Valtellina and Anterselva: the locations representing the great theatre of the Olympic Games, in less than 1000 days. Snow champions kindly put themselves at disposal by answering all audience's questions.
OC Fiemme World Cup and the Provincial Olympic Coordination promoted this activity in collaboration with the school principal Elisabetta Pizio; the memorable day ended with a gift for all students: a T-Shirt from Fondazione Milano Cortina. They finally shared a nice moment by taking a picture all together.
Cortina d'Ampezzo, Bormio, Livigno and Anterselva were celebrating at the same time, with young people already dreaming about their "home" Olympic Games.
In the meantime, Val di Fiemme is ready to celebrate his champions, including Pittin and Bortolas, this Thursday with their traditional Athletes' Party at Palafiemme in Cavalese.
Val di Fiemme is once again the land of sports, both in winter and in summer: OC Fiemme World Cup is getting ready for the Final Stages of the Roller Ski World Cup taking place from September 8th to 10th. And right now, the National Italian Roller Ski Team is training in Val di Fiemme guided by Michel Rainer.
Moreover, OC Fiemme World Cup confirmed another important date. Tour de Ski is ending for the 18th time on Alpe Cermis on January 7th 2024, also with an exciting 15 km CT Mass Start the day before.
© Newspower