TOUR DE SKI SUPERSTAR IN VAL DI FIEMME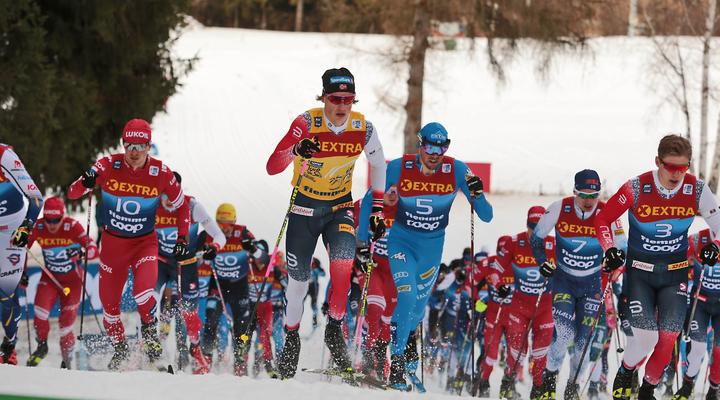 Today 10 and 15 km CT Mass Start of Tour de Ski
De Fabiani falls, Klæbo flies first. Bolshunov is fifth, overall second at Tour
Among women Nepryaeva runs away and strengthens her leadership
Tomorrow 'Rampa con i Campioni' with Northug, then Final Climb
Everyone was waiting for today and the 10K Mass Start Women did not disappoint expectations, 15K men enlightened the afternoon, confirming Klæbo's supremacy and "killing" the Italian audience's vibe here to cheer Francesco De Fabiani. A fall during the first lap switch off any hope for a podium.
Among women, bets were all on Natalia Nepryaeva and she controlled herself at the beginning, finally winning and consolidating her leadership after 5 stages of this enthusiastic 16th edition.
A pale sun shines over the 10K starting with a spring weather, with audience present despite green pass and masks. Rhythm is high since the beginning; the Swedish Hagström tries to run away, immediately caught up. Crucial point when Andersson, Heidi Weng, Parmakoski, Nepryaeva, Hennig and Stadlober separate from the group until the last kilometre. Andersson gets the bonus at km 6. 1000 meters to the end and Nepryaeva with leader yellow bib leaves her rivals on the 'Zorzi' ascent, flying to the finish line. Nepryaeva ends alone in 29"51'3, preceding the Norwegian Heidi Weng (+3.7'') and the Finnish Krista Parmakoski. Andersson loses the podium, now second in the overall standings.
Sun goes down, temperatures too and… time for 15K men. Unlucky start for the Italian Francesco De Fabiani, falling during the first lap also breaking his skis. At the beginning, the Russian Chervotkin and the Norwegian Toenseth, Oestberg and Nyenget man-mark Klæbo. At km 6.4 the Finnish Iivo Niskanen, the Norwegians Klæbo, Valnes and Amundsen and the Russian Alexander Bolshunov are the group leading. Niskanen and Klæbo at km 8.9 try to run away with Bolshunov trying to stay close. Klæbo leads alone from the km 11.4, with 9'' against Niskanen, coming after Spitsov, Chervotkin and Bolshunov. Klæbo's action is majestic, incrementing his advantage, ending alone in 41'31"2. Second place for Niskanen (FIN), the Russian Chervotkin is third. Klæbo is still the leader of the Tour de Ski, second Bolshunov and third Niskanen.
Has Tour de Ski finished? Yes, no, maybe! Tomorrow's Final Climb on Cermis will be a real fight among women between Russia, Sweden and Finland. Not forgetting of USA. Diggins lost positions today, but Nepryaeva, for what is worth, lost a lot on Cermis last year. Counting on this, Ebba Andersson, first place in Final Climb 2021, Kerttu Niskanen, Krista Parmakoski, Heidi Weng, the only Norwegian who already tasted Tour de Ski's success twice, Diggins winning Tour 2021. It's going to be a great match, with also Tatiana Sorina might saying something.
Among men, everything seems to be decided. Johannes Hoesflot Klæbo leads on Bolshunov with 2 minutes, third Niskanen. The Norwegian has what it takes to win his second Tour de Ski.
Audience will be the fundamental ingredient for the Fiemme success. It's time for Final Climb, inimitable ascent on Alpe Cermis that will assign the crystal trophy.
Download video TV:
www.broadcaster.it
15 km CT Mass Start Men
1 Klaebo Johannes Hoesflot NOR 41:31.2; 2 Niskanen Iivo FIN 41:52.0; 3 Chervotkin Alexey RUS 41:54.9; 4 Spitsov Denis RUS 41:55.2; 5 Bolshunov Alexander RUS 41:59.1; 6 Toenseth Didrik NOR 42:11.3; 7 Valnes Erik NOR 42:21.2; 8 Lapalus Hugo FRA 42:25.3; 9 Yakimushkin Ivan RUS 42:27.4; 10 Amundsen Harald Oestberg NOR 42:27.7
23 Rastelli Maicol 43:28.1; 27 Pellegrino Federico 43:46.5; 34 Salvadori Giandomenico 44:22.5; 37 De Fabiani Francesco 44:25.6; 43 Ventura Paolo 44:53.0; 46 Coradazzi Martin 45:29.6; 57 Graz Davide 47:00.9
10 km CT Mass Start Women
1 Nepryaeva Natalia RUS 29:51.3; 2 Weng Heidi NOR 29:55.0; 3 Parmakoski Krista FIN 29:56.1; 4 Andersson Ebba SWE 29:58.8; 5 Hennig Katharina GER 30:02.2; 6 Stadlober Teresa AUT 30:05.6; 7 Niskanen Kerttu FIN 30:34.8; 8 Weng Tiril Udnes NOR 30:42.5; 9 Matintalo Johanna FIN 30:42.6; 10 Sorina Tatiana RUS 30:44.4
23 Ganz Caterina 31:31.4; 25 Comarella Anna 31:35.5; 32 Di Centa Martina 32:11.8; 38 Scardoni Lucia 32:48.5; 44 Pittin Cristina 33:13.1
Tour de Ski – Men standings
1 Klaebo Johannes Hoesflot NOR 1:52:39; 2 Bolshunov Alexander RUS +2:00; 3 Niskanen Iivo FIN +2:49; 4 Valnes Erik NOR +3:04; 5 Golberg Paal NOR +3:09
Tour de Ski – Women standings
1 Nepryaeva Natalia RUS 1:23:25; 2 Andersson Ebba SWE +1:12; 3 Niskanen Kerttu FIN +1:19; 4 Parmakoski Krista FIN +1:21; 5 Weng Heidi NOR +1:40
© Newspower