NORTHUG BOWS FOR A THIRD PLACE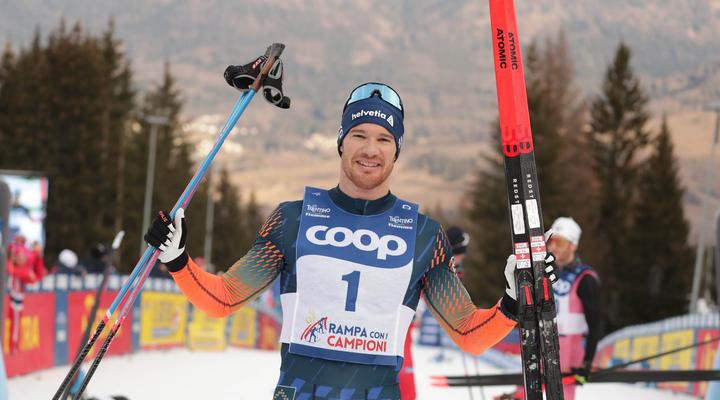 Dario Cologna wins his first Rampa con i Campioni
Petter Jr Northug, regains ending with a third place
Among women, the Swedish Anna-Karin Stromstedt succeeds
Now time for Final Climb with World Cup champions

The bittersweet uphill to Cermis, along the popular track Olimpia III in Val di Fiemme welcomed Rampa con i Campioni this morning, open event with more than 100 athletes. The Swiss Dario Cologna was crowned "King" of the Rampa, along that uphill that have given him four victories of the Tour de Ski. The Swiss let the Norwegian Petter Jr. Northug degassing, the Kazakhstan Vladislav Kovalyov and the German Ludwig Moch along Marcialonga's track, then at the beginning of the uphill, he got to the second place. Action of the day for Alexander Brandner-Egger (AUT) and Cologna "the climber", with 30'' advantage on Northug and Moch at 800 meters to go. Maximum gradient of 30% for the last part, where the Swiss flag started waving and setting the pace. Final epic sprint for Cologna, followed by Brandner-Egger while Northug regained his gap ending third. "It's nice coming back, competing and winning – Cologna said. - Val di Fiemme gave me four Tour de Ski and a World Champion title, it's always a pleasure".
Starting today also Niklas Dyrhaug (9th, NOR), ex World Champion, winner of two gold and one bronze medals.
Among women, Anna-Karin Stromstedt succeeded, followed by the German Sigrid Mutscheller and the Kazakhstan Darya Ryazhko.
Now time for women Final Climb, followed by men in order to crown the new king and queen for this 17th Tour de Ski.
Rampa – 10 km - Men
1 COLOGNA Dario SUI 31:58.0; 2 BRANDNER-EGGER Alexander AUT 31:59.2; 3 NORTHUG JR Petter NOR 32:32.9; 4 MOCH Ludwig GER 32:40.9; 5 SAETHA Morten NOR 32:50.3; 6 ARNAULT Clement FRA 33:06.6; 7 KLETTENHAMMER Patrick ITA 33:22.9; 8 AABREKK Erik NOR 33:29.9; 9 DYRHAUG Niklas NOR 33:47.5; 10 DEBERTIN Daniel GER 33:54.7
Rampa – 10 km - Women
1 STROMSTEDT Anna-Karin SWE 37:54.9; 2 MUTSCHELLER Sigrid GER 38:47.2; 3 RYAZHKO Darya KAZ 40:04.7; 4 DONZALLAZ Nicole SUI 42:06.8; 5 WINKLER Anne GER 43:14.0
© Newspower