VAL DI FIEMME CELEBRATES TOUR DE SKI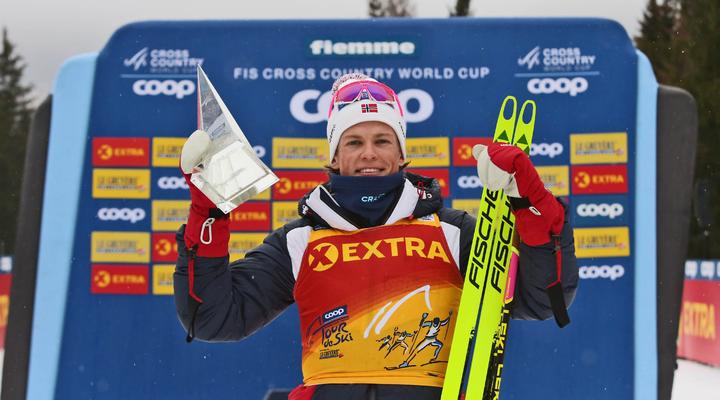 Frida Karlsson falls at the end, 15th place and faints
Norway plays as a team; Klaebo is 6th and wins his third Tour
The "outsider" Delphine Claudel (FRA) wins on Cermis
Simen Kruger reached first place today
Frida Karlsson's drama got all over the world: the Swedish dominated the 17th Tour de Ski, 15 years after Charlotte Kalla's victory. She started with the leader bib, managing her race and then suffered her opponents' attack. She ended as 15th and faint at the finishing line. Doctors quickly took care of her and she was finally able to walk to her hotel.
Delphine Claudel (FRA) reached her first World Cup success today on Cermis, in Val di Fiemme. Second place for the Norwegian Heidi Weng and third for the American Sophia Laukli. Claudel was satisfied "This is the first victory in my career, it was a great day and I am so happy".
Up in Cermis the Swedish hymn has been resonating: "Du gamla du fria" for Frida Karlsson, cheered by everyone. Kerttu Niskanen (FIN) is second on Tour de Ski podium, followed by Tiril Udnes Weng (NOR).
Rain and snow for men's race. Ready, set, go. The Norwegian team with Kruger, Roethe and Holund strengthens to protect the leader Klaebo. Kruger reached first place, followed by his compatriot Holund and the French Jules Lapierre, for a surprising third place. Audience welcomed the new Tour winner Klaebo loudly. His was a Final Climb perfectly managed until the end. "I couldn't be any happier or more satisfied. I cannot wait to be home, then coming back to Livigno for the World Cup. Then it's time to prepare for the World Championships".
For a sweet end, snow has started falling down on Alpe Cermis, to salute the heroes of the hardest and most exciting race ever. In addition, Marcialonga OC can be happy too for the upcoming big event (January 29th).
Download Video: www.broadcaster.it
Final Climb - Women
1 CLAUDEL Delphine FRA 36:35.4; 2 WENG Heidi NOR 36:55.6; 3 LAUKLI Sophia USA 37:11.1; 4 NISKANEN Kerttu FIN 37:11.6; 5 DIGGINS Jessie USA 37:28.9; 6 BRENNAN Rosie USA 37:29.5; 7 STADLOBER Teresa AUT 37:40.6; 8 BERGANE Margrethe NOR 37:48.0; 9 UREVC Eva SLO 37:49.6; 10 WENG Tiril Udnes NOR 37:51.0

Tour de Ski - Women
1 KARLSSON Frida SWE 3:09:31.4; 2 NISKANEN Kerttu FIN +33.2; 3 WENG Tiril Udnes NOR +47.6; 4 BRENNAN Rosie USA +1:42.1; 5 HENNIG Katharina GER +2:13.0; 6 WENG Heidi NOR +2:27.2; 7 SLIND Astrid Oeyre NOR +2:52.1; 8 WENG Lotta Udnes NOR +3:05.8; 9 STADLOBER Teresa AUT +3:16.2; 10 CLAUDEL Delphine FRA +4:17.0


Final Climb – Men
1 KRUEGER Simen Hegstad NOR 31:20.4; 2 HOLUND Hans Christer NOR 31:25.2; 3 LAPIERRE Jules FRA 31:45.4; 4 ROETHE Sjur NOR 31:47.8; 5 MOCH Friedrich GER 31:59.3; 6 KLAEBO Johannes Hoesflot NOR 32:05.9; 7 LAPALUS Hugo FRA 32:16.8; 8 PELLEGRINO Federico ITA 32:23.3; 9 ESTEVE ALTIMIRAS Ireneu AND 32:24.5; 10 PARISSE Clement FRA 32:28.6


Tour de Ski - Men
1 KLAEBO Johannes Hoesflot NOR 2:44:28.9; 2 KRUEGER Simen Hegstad NOR +59.5; 3 HOLUND Hans Christer NOR +1:21.3; 4 PELLEGRINO Federico ITA +1:44.4; 5 GOLBERG Paal NOR +2:05.3; 6 HALFVARSSON Calle SWE +2:09.2; 7 ROETHE Sjur NOR +2:09.9; 8 MOCH Friedrich GER +2:26.4; 9 TOENSETH Didrik NOR +2:43.0; 10 LAPIERRE Jules FRA +2:48.5


© Newspower